2017 Tacolicious Crab + Wine Feast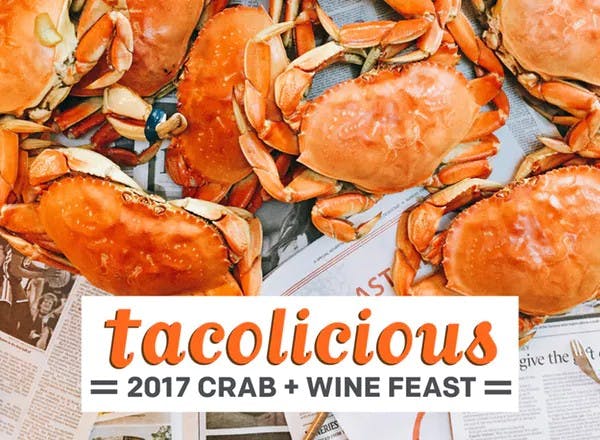 The holidays are over. Let's celebrate the New Year!
Join us for Tacolicious's third annual Crab + Wine feast. On long newspaper-lined tables, piles of juicy, spicy, roasted Dungeness crab will be served up family-style. The excellent wine, brought in from the Valle de Guadalupe, will be flowing.
Buy tickets on Table8 right here.
Date: Wednesday, January 25
Time: 6:30pm
Location: Tacolicious North Beach (1548 Stockton St.)
Price: $80 (tax and tip added at checkout)
MENU
Sit down for a family-style, six-napkin feast including:
• Josey Baker bread
• Mexican-style clam chowder with bacon and charred poblano
• Chopped chicory salad with blue cheese
• Joe's famous roasted Dungeness crab with fennel, thyme, lemon and chile
• Coconut milk flan with cinnamon
The wines being poured are from Pavo Real, cultivated in Valle de Guadalupe at Vides de Guadalupe Domecq winery in Baja. Until now, these wines have been enjoyed mostly within Mexico's borders, but on this night, our guests will have the pleasure of tasting them state-side.