Main content starts here, tab to start navigating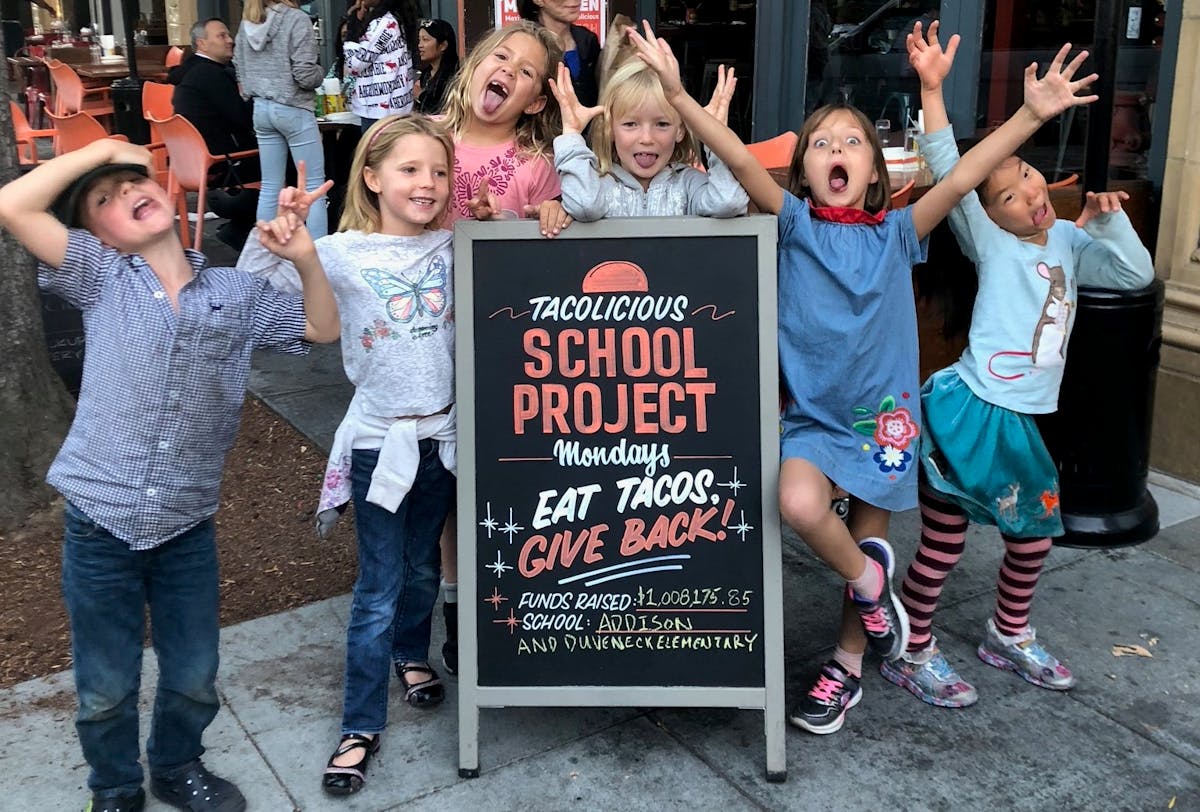 Tacolicious School Project
Since 2012, Tacolicious has made public education its priority, investing back into the Bay Area community through the Tacolicious School Project. For Tacolicious founders Joe Hargrave and Sara Deseran, this mission is personal. Since kindergarten, their children have attended SF public schools.
How it works: From September to May, each of our SF, Palo Alto and San Jose Tacolicious locations pair up with neighboring public schools, donating 15 percent of a month's worth of Monday's proceeds to each of our 54 partner schools. (Scroll down to see the list.)
The School Project also extends to our two annual education-focused fundraisers. In the summer, we host the Tacolicious Summer Guest Chef Series at our Ferry Plaza Farmers Market stand, donating the proceeds to CUESA's Foodwise Kids program which works with schools to educate and empower the next generation of healthy eaters. And in the fall, we host the Taco Open golf tournament, giving to non-profits such as SF Education Fund and 10,000 Degrees.
To date we have given over $1,100,000 to public education and supporting causes!
Questions about the Tacolicious School Project? Please contact schoolproject@tacolicious.com.
FUNDS RAISED TO DATE
$1,216,116.77




2019-20 School Year
September
Marina - John Muir Elementary
Mission - Starr King Elementary
North Beach - Garfield Elementary
Palo Alto - Addison Elementary + Duveneck Elementary
San Jose - Herbert Hoover Middle
October
Marina - Marina Middle
Mission - Marshall Elementary
North Beach - Yick Wo Elementary
Palo Alto - Ohlone Elementary + El Carmelo Elementary
San Jose - Milpitas High
November
Marina - Washington High School
Mission - Thomas Edison Charter
North Beach - Alice Fong Yu
Palo Alto - Nixon Elementary + Escondido Elementary
San Jose - Monroe Middle
December
Marina - Claire Lilienthal
Mission - Leonard R Flynn Elementary
North Beach - Rosa Parks Elementary
Palo Alto - Jane Lathrop Stanford Middle + Palo Verde Elementary
San Jose - Payne Elementary
January
Marina - Sherman Elementary
Mission - Alvarado Elementary
North Beach - Spring Valley Elementary
Palo Alto - Ellen Fletcher Middle + Juana Briones Elementary
San Jose - Trace Elementary
February
Marina - Presidio Middle
Mission - Daniel Webster Elementary
North Beach - Redding Elementary
Palo Alto - Palo Alto High + Fairmeadow Elementary
San Jose - Lynhaven Elementary
March
Marina - Clarendon Elementary
Mission - Rooftop
North Beach - New Traditions
Palo Alto - Henry M Gunn High + Barron Park Elementary
San Jose - Washington Open Elementary
April
Marina - Roosevelt Middle
Mission - Balboa High School
North Beach - Gateway Middle School
Palo Alto - Walter Hays Elementary + Herbert Hoover Elementary
San Jose - Del Mar High
May
Marina - Sutro Elementary
Mission - Mission High
North Beach - Diane Fienstein Elementary
Palo Alto - Greene Middle + East Palo Alto Kids Foundation
San Jose - Lincoln High
June - August
Summer Break